Do electric excavators have a future in construction?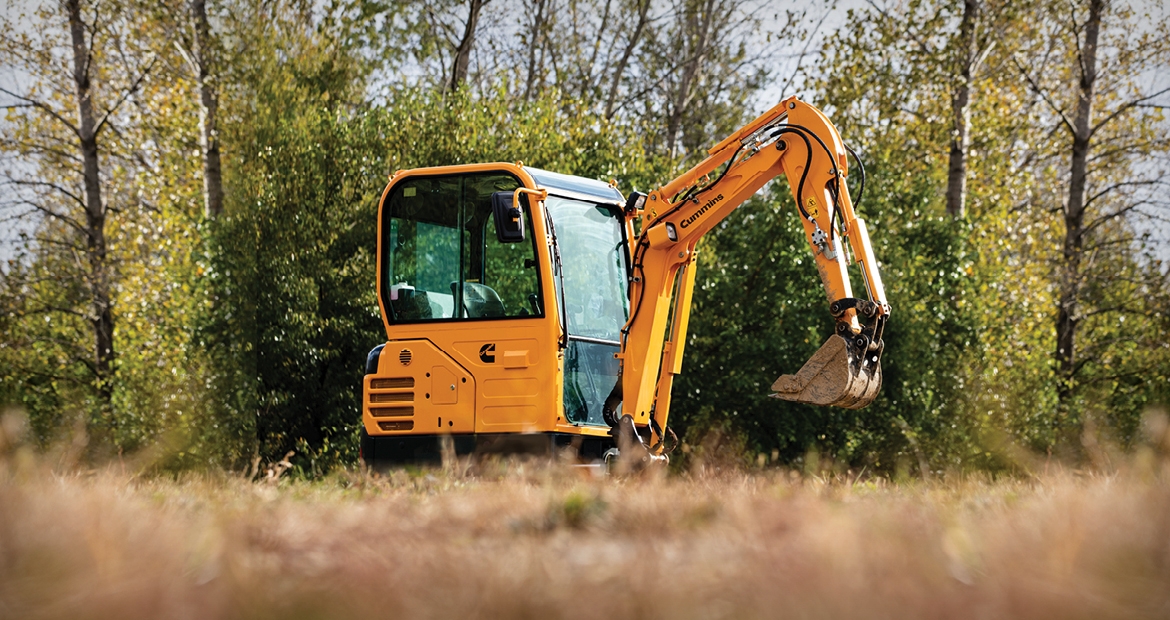 The construction industry has more than 733,000 employers and over 7 million employees. It is a top contributor to the U.S. economy, generating nearly $1.4 trillion worth of structures each year. And according to the United Nations Environment Program, buildings and their construction together account for more than 35% of global energy use and nearly 40% of energy-related carbon dioxide emissions annually.
As the world is faced with the climate crisis, the construction industry has to find ways to adopt greener energy solutions. It is a critical challenge to ensure the momentum of transformation for lowering construction emissions does not slow.
Cummins builds a pathway to more sustainable construction
In 2018, Hyundai Construction Equipment and Cummins announced that they would jointly develop electric-powered mini excavators. Since then, prototypes of the mini excavators have been developed and the two companies have gathered initial market feedback and continue to refine the product for target customer use-cases.
Now, Hyundai and Cummins are moving this long-term, productive partnership into its next phase – field testing.
During this phase, prototypes of a production intent design are handed over to customers to gain real world experience and to test and validate the adoptability of electric-powered mini excavators against the needs of those customers. Field testing plays an essential role in delivering best-in-class solutions that meet or exceed the durability and reliability expectations that Hyundai and Cummins are recognized for in the industry.
Field testing is an essential piece in delivering best-in-class solutions and demonstrates how we are always innovating for safety and performance. Duplicating real-world environment testing under Hyundai's operating conditions and duty cycles, we will monitor the mini excavators' adoptability, performance and reliability.
Why are excavators a good candidate for electrification?
Zero-emissions
As stricter standards for zero-emissions continue to arise, even off-highway applications have begun to feel the push to lower their CO2 emissions. Urban cities have started to implement zero-emission zones (ZEZ) that require any vehicle, on- or off-highway, to comply with the area's regulations. For this reason, construction zones in urban cities have sought out electrified products, such as electric excavators, that match or exceed the reliability and performance of their diesel counterparts. These electric excavators are now considered invaluable for indoor construction sites, where the diesel counterparts were unable to function due to the fumes they emitted and poor ventilation.
Noise Pollution
As more cities implement ZEZs, there has been a noticeable decrease in noise pollution. What was once a loud machine that caused a disturbing ruckus when turned on, is now just as quiet when operating as it would be when turned off. A reduction in noise pollution is not only satisfying to the construction site's surrounding areas, but in many ways decreasing environmental noise could have positive effects on passerby health. Regardless of noise, construction companies want assurance that these electrified excavators can get the job done.
An additional advantage of reducing noise pollution is improved communication between the operator of the excavator and other workers on-site. By removing the engine-induced vibrations, both the operator and the workers guiding the operator can better hear one another.
Interoperability
Operators have noted that there is no difference in machine interoperability between electric and diesel counterparts. The performance of an electric excavator easily matched the performance of diesel vehicles. Its motor's response to fluctuations in load is faster due to the connectivity speed between the electric module and battery, allowing for better operating performance and feel.
Maintenance
Because electric excavators no long run on traditional fuel, the need for coolants and oil filters is eliminated and significantly decreases the maintenance intervals. The vehicles also have a lower number of parts that need to be maintained, which can potentially result in in the total cost of ownership to be more affordable than their diesel counterparts.
What are some of the challenges that electric excavators still face today?
Packaging
Packaging has always been a dilemma in the electrification space as these machines were optimized for a diesel engine, not batteries. While batteries are less energy dense than traditional fuel, they require additional components that a diesel engine and fuel cell do not, such as a thermal management system. So, the most prominent question engineers are working to answer is, how do you pack a battery with enough energy and all its components into an existing diesel machine?
Cooling and Heating
Being enclosed in such tight spaces and exposed to all types of weather, excavators need to perform under all kinds of temperatures. However, due to the machine's compactness, adding a component for cooling is not always possible. From a heating standpoint, the battery cannot operate if it's below 0 degrees Celcius due to its chemistry.
Cummins' demonstration powertrain solution
Cummins has designed a new electric powertrain for the smaller, more compact 1.9-tonne excavator. Similar to the 2018 model that was developed from scratch, these mini excavators feature a whole new powertrain that offsets some of the challenges of the application. With a new motor, onboard charger, electric hardware integration and never-before-used BM8.9E battery, this model of the excavator has been optimized for electrification.
While developing the design for the new electric mini-excavators, Cummins engineers needed to overcome the obstacle of packaging. In addition to using energy dense lithium ion batteries, Cummins engineers implemented creative, compact design solutions to optimize the packaging of the electric powertrain in the existing space claim of a diesel excavator. These solutions included custom motor-pump coupling assembly, split compact Power Distribution Unit solutions for maximizing space utilization and replacing a large mechanical fan mounted to the engine with a small electric fan that runs by battery to cool the hydraulic oil. The electric fan also has a smart feature which turns the fans on only as required so they are not running all the time.
To optimize the system further, Cummins added additional smart features across multiple components to increase efficiency. This new system will also include components to address battery temperature regulation – internal battery heaters for thermal management.
What are we hoping to learn with this next phase?
Cummins is building 11, 1.9-tonne battery-electric mini excavators. In 2022, nine of those excavators will be delivered to customers across Europe and South Korea for field testing to determine their adoptability in applications where diesel-powered excavators are traditionally used.
With this new battery electric solution working through field tests, Cummins hopes to better understand the product market, its demands and what impact electrified power will have on the construction industry. The test units will provide insights into end-users' duty cycles, power demand, operator experience and associated field data.