Connected Solutions Customer Login

The Lifeline For Your Engine
Using telematics, wirelessly connect your engine to Cummins for continuous monitoring and diagnosis of  system fault alerts in both on-highway and off-highway applications across a broad range of equipment, using a convenient mobile app, email or web portal.

Close Gaps in Performance Analysis
Make better decisions on when to stop by identifying and ranking fault codes in order of severity, and reporting the suggested root cause of system failures at the component level.
Avoid Progressive Engine Damage
Stay informed with actionable insight on critical engine timers within seconds of being triggered by fault occurrences, helping you to prevent unnecessary repair expenses and minimize unplanned downtime.
Get Back in the Driver's Seat Faster
With Cummins Care™, a representative will be able to guide you on information about fault events and identify the nearest certified repair location with expert technicians who will use genuine Cummins parts to service your equipment.
Stay Connected to the Field from Anywhere with our Advanced Mobile App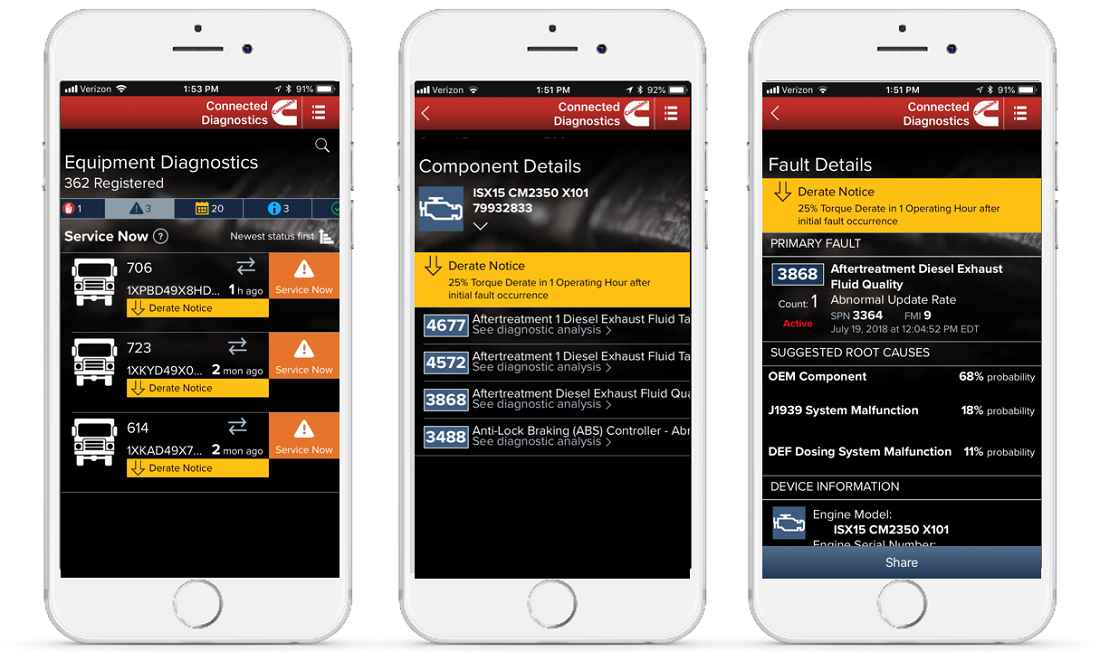 Check Fleet Equipment Status
Have visibility into your fleet with a smart dashboard to identify high risk equipment
Survey Powertrains Intelligently
Review analysis of critical and severe faults with performance derates in real time
Real-Time Diagnostics Assistance
Find local Cummins service providers who can guide you to address your service issues quickly
Participating Telematics Service Providers
 

 

 

 

All logos are trademarks of their respective companies
Overall it's been an A+ experience."
"Preventative maintenance is very important to us," says Nathan Summer, Garage Supervisor for Hamilton Southeastern School District. "For our 300 buses, we only have two spare transit buses and four conventional spares. So it's crucial that we avoid any possibility of downtime or failure in route. We especially have to
protect the kids; we can't have them waiting on the side of the road, especially when it's cold.
Connected Diagnostics and Connected Advisor have helped keep our buses on route. We've found Cummins' Smart Connected Products very useful. It's been nice having the diagnostic health report set up and delivered to us automatically. It also helps a lot when we are scheduling maintenance with our field service technician, knowing what needs immediate action and what doesn't."
We respect your privacy. Read our policy.
Software Downloads
This software is not available on mobile. To download for your office or home computer, please return to this page from that device.